"Innovating Massive Communications"
Try our instant demo and see what we can do for You. Enjoy!
Processing status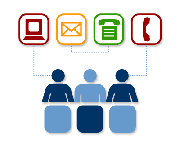 Companies have to dedicate important resources to answer client's questions related to processing status.
With Target Call, your company and clients are benefitted, as your company can be proactive and answer client's questions before they address them to your personnel.
This proves professionalism and consideration towards your client, as your company dedicates its time and resources (principally human) to address situations of higher importance or need.
Equally, if the client detects that the present status of processing is incorrect, he has the opportunity to press a phone key and in a few seconds speak directly to your company staff (in-house, outsourcing) assigned to respond to the particular situation. This way, your company only assists exceptions and not the group of clients that clamor for information on their processing status.